Alien Acres is a brand new Novi Stars game where one can customize their own character and then raise an alien farm on the picked planet. This page will describe everything one should know when it comes to playing. Feel free to show off pictures of your own creations.
Getting started
Getting started is very easy on Alien Acres. Start by choosing your novi star girls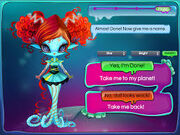 hair, eyes, antennaes, dress, arms and legs. Then you can change the color of your eyes, hair and skin. Once finished, you then pick a name and are given a randomly selected planet.
After decoration
Gallery